Tips on Finding the Best IT Training Provider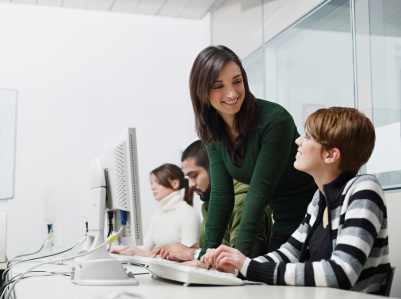 Let us first differentiate between training and educating so that you may get the concept of what am about to discuss below.
Training is giving information and directions in a structured and planned manner so as to accomplish tasks of a particular subject. Training guides us on getting used to tackle the tasks of some topics. While Education enhance understanding of topics by providing information and guidance.
Since many are the people asking whether it is worthy training for IT in certain institution, here are some tips to guide you in identifying the best training institutes in your area.
Training mode : some institution offers a blended mode which means a combination of classroom training and virtual training it is always good to ask for clarification of what kind of mode the institution you want is offering before deciding to enroll as a student.
Qualifications of a trainer: it is important to know whether the trainer is qualified enough to possess updated and advanced knowledge in various areas so that you may benefit more from him or her
Accessibility: it is good to know how far or close is the institution is from where you live or work so that you have a good planning on your transportation.
The standard of the training: the training center should have all the facilities required for the training to go on without distractions e.g the lab should be capacitated with all the equipment and also the curriculum should be of good quality. It is also advisable to check on the track record of the institution to know more about the quality which they give.
How much should you pay: it is quite important to ask for clarification of the course fee when selecting an institution. It is not necessary that because a center has a high price that it is going to deliver training of high quality and vice verse this means that clarification of course fee is essential. It is not bad for you to compare prices with other institution offering a similar course.
Placement assistance: this is help given to those searching for jobs by providing them with alternative sources before they could get a job. This will help in making decisions and also giving instructions on how to prepare resume, skills assessment, career counseling and interview preparation. Signing up for placement training, it guarantees you for a job immediately after completing the course.
Free services offered: in the institution you are about to enroll in, is there any free service offered. Several institutions offer free services by sending latest trend, advanced technology articles and job openings using emails, if free services are offered In the institution where you are about to register , this is an added advantage.
This is just but a few tips and I hope they will guide you to finding yourself a good institution to train you to be a professional in IT industry and it will increase your chances of getting that dream job you are searching for. Try using Google to find IT training providers in your local area. Some National IT training companies such as Paul Brown Associates Limited offer courses right across the UK. These are normally run at local training centres but if you are a business you might want to consider arranging onsite training at your own offices. If there are 2 or more of you who need training it can often work out much cheaper.